ARCA MINI
Product Features:
Intel Core i9-10900KF 3.7 GHz 10-Core Processor

Intel Z490 I Mini-ITX 2 x M.2, 64GB Max WIFI AX201

   AMD Wraith Spire Socket AM4 4 CPU Cooler Copper/Aluminum Heatsink, RGB

Geforce RTX 2070 Mini OC 8GB GDDR6 Extreme

DDR4 16GB 288 Pin DDR4 3200 (PC4 25600)

    Samsung 970 EVO PLUS 250 GB M.2 NVMe PCIe SSD 3500/230

Microsoft Windows 10 Home

  3 Year Limited Warranty
 HPP-3. – HARD DRIVE PROTECTION PLAN 3 YEARS
Customize and Buy Now
5 mm Thick Tempered Glass Window Design
The 5 mm thick tempered glass window guarantees the durability of the window and the most exciting panoramic viewing. With the enlarged window design, users get to access the ultimate visual presentation and admire all components of the liquid-cooling system.
Built for Makers
By practicing and incorporating the idea of "maker movement" as well as 3D printing, Thermaltake designs the open frame pamoramic viewing chassis as anyone can access and do his/her own mods as well as print out his/her own ideas using available liquid cooling components and manuals without boundaries.
Users can download 3D printing accessory files on 3D Makers Microsite, printing them out to do a special mod.
DMD – Dismantlable Modular Design
The Core P1 TG Mini ITX open frame chassis enables user to freely build the system from the ground up with given modular panels, racks, brackets, and pre-design mounting arrays. No more unreachable screw corners or gaps; making installation a breeze with the Dismantlable Modular Design.
3-Way Placement Layout
The Core P1 TG Mini ITX is designed for use in three different ways: Wall-mount, vertical, and horizontal placement. Built for customization that reflects the makers' personality, it allows for adjustments to the chassis for the best viewing presentation while ensuring outstanding cooling performance.
Users can hang it on the wall as decoration, take it to wherever they want and display the nice builds vertically or horizontally.
Versatile GPU Orientation
Show off your graphic card and power supply with our special design bracket! The Core P1 TG Mini ITX has included a standard riser cable and adjustable PSU bracket for users to choose the way they want to build the system.
Thermaltake TT Premium PCI-E 3.0 Extender (Optional) – Supports a wide range of GPU solutions with ultra-excellent quality. Features like, extreme high-speed cable with highly-routable design, EMI shielding with conducting polymer are crafted for meeting the most demanding system. Available in 300mm, 600mm and 1000mm length.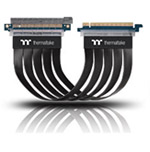 Native AIO Support
The Core P1 TG Mini ITX is natively supported for radiator size 1x 120 mm/ 2 x 120 mm (240mm) of All-In-One liquid cooling solution without the need for an extra bracket.
Supreme Hardware Support
The Core P1 TG Mini ITX offers the most flexible mounting option with the special designed mounting array which supports up to two 120mm fans on the left side and up to a 240mm radiator. Further, the "1+3" drive trays are included and hidden in the back panel that offers 45mm of cable management space.
3.5" or 2.5" HDD Drive Compatible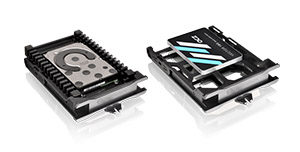 SPECIFICATIONS
Processor

Intel Core i9-10900KF 3.7 GHz 10-Core Processor

Motherboard
Intel Z490 I Mini-ITX 2 x M.2, 64GB Max WIFI AX201
Memory
DDR4 16GB 288 Pin DDR4 3200 (PC4 25600) Memory
Graphics
Processor

nVidia GeForce RTX 2080 Super 8GB Graphic Card

Auto-Extreme Technology uses automation to enhance reliability
8GB 256-Bit GDDR6
Core Clock 1410 MHz
Boost Clock OC Mode: 1680 MHz
Gaming Mode (Default): 1650 MHz
1 x DL-DVI-D 1 x HDMI 2.0b 1 x DisplayPort 1.4
2304 CUDA Cores
PCI Express 3.0

Storage
Samsung 970 EVO PLUS 250 GB M.2 NVMe PCIe SSD 3500/230
Cooling Fans
1 x 120mm Rear Fan / 120mm Radiator
3 x 120mm Top Fan / 360mm Radiator
3 x 120mm Bottom Fan
Keyboard
Scorch Gaming Illuminated Keyboard
I/O Ports

2x USB 3.0 Ports, 1x HD Audio

Rear – 3 x USB 3.2 Gen2 (A), 1 x USB 3.2 Gen2 (C), 2 x USB 3.2 Gen1 (A), 2 x USB 2.0
Front – 1 x USB 3.2 Gen1 (C), 2 x USB 3.2 Gen1, 2 x USB 2.0

Slots
2 x PCI Express x16 slots, running at x16 (PCIEX16_1, PCIEX16_2)
2 x PCI Express x16 slots, running at x8 (PCIEX8_1, PCIEX8_2)
Communication

Realtek RTL8111H

10/100/1000Mbps

Audio
Realtek® ALC4050H codec+Realtek® ALC1220-VB codec (rear panel audio)
Realtek® ALC4050H codec+ESS SABRE9218 DAC (front panel audio)
Support for DTS:X® Ultra
High Definition Audio
2/4/5.1/7.1-channel
Support for S/PDIF Out
Security
Hardware TPM Option to Enable
Power System
1000W ATX 12V 80+ Gold Power Supply
OS Support

Windows 10 (64-bit) Home Edition

Optional:

Windows 10 Pro Edition

Multi-Graphics Technology
DVI Output : Yes x 1 (Native) (DVI-D)
HDMI Output : Yes x 1 (Native) (HDMI 2.0b)
Display Port : Yes x 1 (Native) (DisplayPort 1.4)
HDCP Support : Yes (2.2)
Physical Characteristic
5mm Thick Tinted Tempered Glass
AIO/LCS Cooling support 120/240mm
Dual GPU Layout Locations
3-Way Placement Layout Options
Mini-Riser Cable Included (Optional)
Other Features
Support for APP Center
* Available applications in APP Center may vary by motherboard model. Supported functions of each application may also vary depending on motherboard specifications.
@BIOS
AutoGreen
Cloud Station
EasyTune
Fast Boot
Game Boost
RGB Fusion
Smart Backup
Smart Keyboard
Smart Survey
System Information Viewer
USB Blocker
USB TurboCharger
Support for Q-Flash Plus
Support for Q-Flash
Support for Xpress Install